Foam Party Rentals in Jacksonville, NC
High-Quality Foam Party Rentals in Jacksonville NC
Check out our amazing Foam Party rentals in Jacksonville NC. We deliver our Foam Party Rentals and other party items throughout Jacksonville and surrounding areas. Our equiptment is thoroughly tested to the strictest Health and Safety standards. We are fully insured and all equiptment is regularly tested. Our Foam Party rentals are great for a kid's birthday party aged up to 100. They are perfect as an add-on to Gellyball or Archery Dodgeball parties or any other children's event in Jacksonville, NC and surrounding areas! Safety is our biggest priority and so our team will give you full safety instructions when dropping off the Foam Party rentals. Two forms of ID will be required upon arrival. You can check availability and book your Foam Party rentals online using the buttons above, or if you have any questions don't hesitate to shoot us a text at 910-557-8414
Why Choose Foam Party Rentals from
OCA Party Rentals?
OCA Party Rentals happily delivers Foam Party rentals in Jacksonville NC and other surrounding areas like Hubert, Swansboro, Richlands, and many more cities. See our delivery area page for complete details. Check out our fun Foam Party options in Jacksonville NC. You'll be thrilled with our high-quality and affordable inflatable rentals.
Here at OCA Party Rentals, we have every kind of Foam Party rentals you could ask for! Regardless of whether you're having a family gathering or corporate event, we can take care of all of your needs. We have outstanding options for your next party or event. You might want to check out our: Fantastic Foam Party or Glow Foam Party, we have exactly what you need for your event!
More Party Equipment At OCA Party Rentals
When you're looking for the best quality party equipment in Jacksonville, NC you don't have to look any further than OCA Party Rentals. Here at OCA Party Rentals, you will find the best selection of the highest-quality bounce house rentals, bounce houses with slides, Foam Party, Gellyball, and more. Our party rental company has everything you need to make your event a success. You can choose from one of our many popular commercial-grade bounce houses or fun inflatable water slides. We also have a large supply of tables and chairs to accommodate all of your guests! We will deliver, set up, and come back to pack everything up so that all you have to do is enjoy your party.
Call or text us today to reserve a fantastic Foam Party Rentals in Jacksonville, NC for your next Party or Event! (910) 557-8414
Foam Parties are taking over Jacksonville NC for many reasons. Here are some of the characteristics:
Biodegradable.
Non-toxic.
Hypoallergenic.
Safe for kids, pets, and plants.
No mess!! It disappears within minutes.
Check out our most popular game to add to your foam party rentals - Gellyball. This is a new, fast-paced game that everyone in the Jacksonville and surrounding areas are falling in love with. Our Gellyball game is tested to the strictest Health & Safety standards and is fully insured. Gellyball offers all of the fun and excitement of paintball without the pain or mess. NO PAIN! NO MESS! The soft, water-based Gellyballs bounce off of their target leaving no stain, mess, or sting. The ammo is biodegradable and non-toxic, safe for children, plants, houses, and pets! They don't leave any residue and will dehydrate/dry out and turn to dust in no time. This is a game-changer for several different events, but lately, it is a real home run for kids' birthday parties. It keeps them entertained with a smile on their face for hours. This game is a much lower impact than paintball which makes it much safer for children. This game is great for all ages 5 and up. The best part is we conveniently bring everything you.
Gellyball is great for:
Birthday Parties
Church Events
Team Building
Graduation Parties
Unit Morale Builders
Bachelor/Bachelorette Parties
BBQs/Cook Outs
Holiday Celebrations
Corporate Events
Couple's Therapy
We run several different action-packed games to constantly keep the participant's attention and keep them excited. Click the photos to learn more about the games and what we bring. If you have questions send us a text at (910)-557-8414.
Our Service Areas
Bounce Houses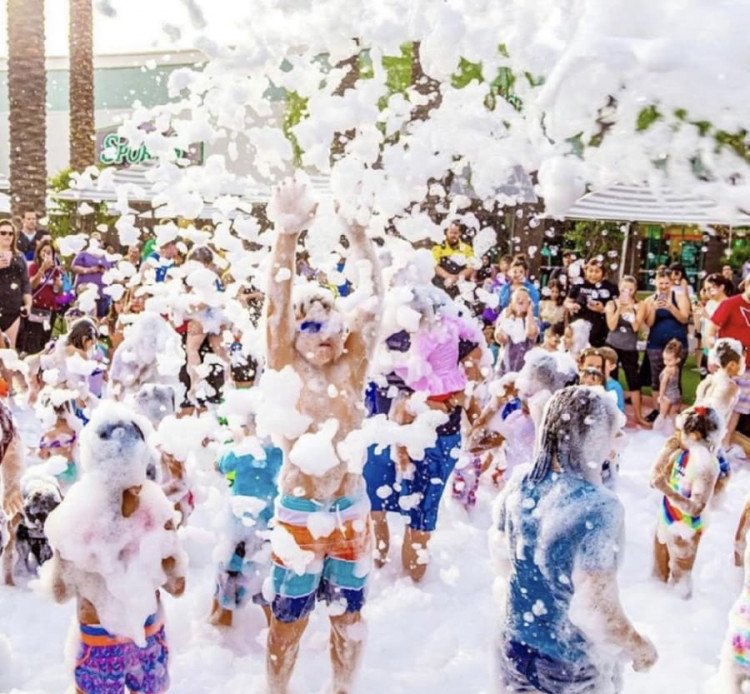 Glow Foam Party
from $470.00